Import Promotional merchandise and premiums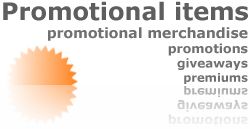 Harlequin Trade has over 20 years of experience in importing promotional merchandise and giveaways. We are selling our promotional items to publishers, promotional merchandise companies and other companies that needs larger quantities. Our products are always supplied at a low price and high quality. One of our strengths is to create unique promotional items, perfect for strengthening your brand and provide your customers with an unique gift.
Promotional merchandise och giveaways

Gifts which are given to customers or employees to encourage continued contacts and goodwill, are often customised with logotype or other symbols.

Subscription promos och premiums

Can be used to raise the value of your product or service. Might not necessarily contain the company logo or symbols. Suitable for book clubs or as magazine subscription premiums.
We have thousands of products but not all are shown at our website, so if you are looking for a special promotional items, contact us and we will help you find, manufacture or import it.
A selection of our promotional merchandise, you can find more products here.