Slippers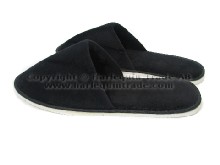 Description
Product Details
Slippers for indoor use.
Available with embroidery for logotype.
Different size and colours available.
Harlequin Trade can almost always customize your product. We can change patterns, colour, logo and material to import and manufacture according to our customers needs for promotional, merchandise or retail use.
Please describe your customisation in the Enquiry form.
Material: Cottton
Size: 29 cm
Weight: 97 g
Item: 93380